Wizard PK Band Style Ring - Gold (19mm) by World Magic Shop - Trick
The Bandstyle Wizard PK ring
Slightly thicker, with a larger external diameter than the original ring, and is approximately 25% more powerful. The ring is also slightly narrower across, making it less obtrusive.
Presented in a gorgeous jewellery box, the ring is designed for many years of use, and can be worn continuously as you would wear any item of jewellery. That's the beauty of the Wizard PK Ring-it looks completely normal, but its secret magnetic power is always available.
Designed purely for magicians, by magicians, the Wizard PK Ring has already taken its place in the must-have magician's arsenal. And with so many applications in magic and mentalism, it is not surprising that the Wizard PK Ring is a worldwide best-seller.
Once worn NEVER taken off!!!
Possibilities - Endless

The first fully magnetic ring designed by Magicians for Magicians!

The Wizard PK Ring is a complete, 100% Neodymium Rare Earth Magnet fashioned into a 'band' style ring. It will give you a host of unique opportunities to amaze and impress, limited only by the extent of your imagination. To get you started we have set out two basic routines for you to try.
The beauty of the ring lies not only in how it looks, a ring on your finger looks completely natural to any spectator, but also in the fact that the ring does all the work for you. There is no need for you to conceal anything - a rare treat.


Stop time on a person's watch using the power of 'suggestion'.

Make items such as cutlery or stationery move, using the power of a person's mind.

Chopless chop-cup.

Coin vanishes and appearances.
Limited only by the extent of your imagination.Routines Included

Routine 1 - Stopping Time
Routine 2 - Coin Through Glass
US Ring Size 9 (Approximately 19mm Diameter)





Click on the following thumbnail image to get a full-size printable flyer for the Wizard PK Ring!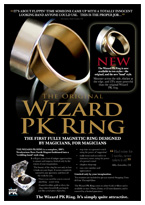 Below is a pdf brochure - "Imitation is the sincerest form of flattery: A few words from the PK Ring creators!"